June is a busy month at the Market.  All events are during the regular Friday Market unless otherwise noted.
June starts with our First Friday Cooking Day. Join guest cook Sandy Stoneman this Friday. She'll be using an insta-pot!  Free samples will be available and donations are welcome.
The Kids Corner opens June 14th from 10-11am. It's totally free  and will occur every Friday thru August 2.  That's the Tomato Festival.  Plan now to enter the salsa contest and the Monster Tomato contest.  It doesn't have to be ripe or pretty-just big enough to give Jen Cavey a run for the $!!!!
Fiber Day is June 21, it's one of just 2 scheduled this year.  You can also check out the Fiber Festival, started by our fiber artisans in Sparta the 7th and 8th-that's this weekend. They'll be back August 23 to help us launch our Christmas in August Artisan Craft Fair.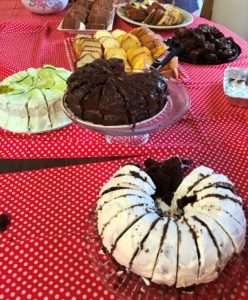 The Ice Cream Social fundraiser is Sunday June 23 from 2-5 pm. $10 for adults, $5 for kids under 10.  We'll have delicious homemade toppings-including Jen's Wild Turkey surprise-and baked goods with Hersey's ice cream. It has been a great Market fundraiser in the past and we'll be doing a second on Sunday August 25 that will include a silent auction.  I hope you can join us.  It's a great excuse to eat cake and ice cream and support the IFM.
Friday June 28 is Kids Day so spread the word to all the kids you know.  It's lots of fun during the entire Market for kids of  all ages.  I've been known to try my hand at roping….
Looking forward to seeing you at the Market and bring a friend!