Sandy has not set a date yet for the class, but stay tuned….
Sunday Pot Roast (Instant Pot Recipe)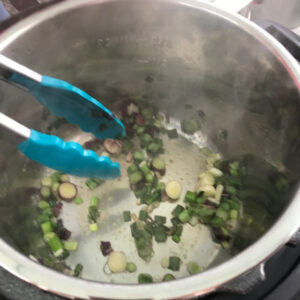 Cook Time 1 hour
Ingredients
3 lbs. beef chuck roast
salt to taste
4 Tbsp. olive oil-divided
2 c. beef broth
1 pkg beefy onion soup mix (dry)
1 white or yellow onion, quartered
1 lb. baby potatoes – leave skin on and do not cut
1 c. baby carrots
1 c. mushrooms
Instructions
Sprinkle pot roast with salt and set aside.
Add 2 Tbsp. Olive oil to Instant Pot and set to "Saute".
When oil becomes hot and shimmery, add pot roast and sear for 4-5 minutes on each side.
Add beef broth to Instant Pot.
Add vegetables, 2 Tbsp. olive oil, and onion soup mix to a gallon-sized Ziploc bag and shake until vegetables become evenly coated with mix.
Put veggies in Instant pot and distribute evenly around roast. Pour contents of oil/soup mix over roast and veggies.
Place lid on Instant pot with steam valve closed.
Switch Instant Pot setting to "manual" and set for 60-80 minutes on "high" pressure (70 minutes seems to work ok, judge the time depending on the size of your roast).
Do a natural release for at least 10 minutes, then quick release.
Remove roast from instant pot, slice, and serve with vegetables.
Use extra drippings from the instant pot to make gravy or au jus.
Instant Pot Zucchini and Yellow Squash Soup with Rosemary and Parmesan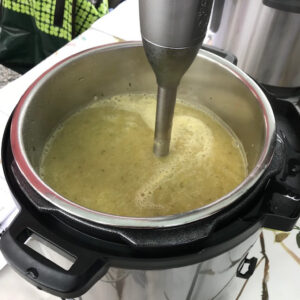 (Makes about 6 servings)
Ingredients:
2 T olive oil
1 T butter (or use more olive oil if you don't want butter)
1 onion, chopped
1 T minced fresh garlic
1 tsp. Italian Herb Blend
4 tsp. chopped fresh rosemary (or can use 2 tsp. finely chopped dried rosemary)
3 lb. diced green and yellow summer squash (about 8 cups diced squash or slightly less if you can't fit that much in your pressure cooker, can also use all green or all yellow squash)
6 cups chicken stock
1 tsp salt
½ tsp pepper
fresh grated Parmesan cheese, for serving
Instructions:
Chop the onion, mince the garlic, and finely chop the fresh rosemary.
Heat olive oil and butter in large heavy soup pot or stovetop pressure cooker (or in the bottom of the electric pressure cooker on the Saute setting), then add onion and saute about 5 minutes, or until onion is translucent and softened. Add garlic, rosemary, and Italian Herb Blend and cook 3-5 minutes more.  While the onion, garlic, and rosemary are cooking, chop up enough zucchini and yellow squash to make 8 cups (or slightly less  if you can't fit that much.)
Add the vegetable or chicken stock to onion mixture and simmer 10 minutes.  Leave the setting on Saute to simmer the stock.  Then add chopped zucchini and yellow squash. Lock the lid, bring to high pressure, and cook 5 minutes at high pressure.  Use the quick-release method to release the pressure.
Use an Immersion Blender to puree the mixture. When mixture is as pureed as you'd like it, check the consistency of the soup.  Simmer until the soup is reduced and as thick as you'd like it, about 20 minutes.  Season to taste with salt and fresh-ground black pepper.
Serve soup hot, with freshly grated Parmesan cheese sprinkled on top if desired.
Flourless Chocolate Cake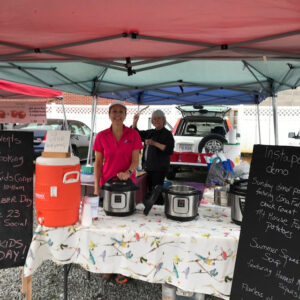 PREP TIME: 15 MINUTES
COOK TIME: 20 MINUTES
TOTAL TIME: 35 MINUTES
SERVINGS:  10 SLICES
Carbs: 3 net carbs
INGREDIENTS
6 oz 70-90% dark chocolate
8tablespoons butter
1/2cup dutch or dark cocoa powder
1teaspoon espresso powder optional
1/2teaspoon salt
1teaspoon vanilla
3eggs whites and yolks divided, at room temperature
2tablespoons water (if needed)
1/2cup granulated or powdered non-stevia low glycemic sweetener (Here is the one they suggest. I found on Amazon: XyloSweet Non-GMO Xylitol Natural Sweetener, Granules, 5lb Resealable).  Note: I have used Truvia but they say that Truvia is not the best due to its aftertaste.
INSTRUCTIONS
Position a rack in the lower third of your oven and preheat to 350°F. Grease and line an 8 inch cake pan with parchment paper or non-stick foil. Set aside.
Melt chocolate and butter on 50% power at 30 second increments, stirring frequently until smooth. Stir in cocoa powder, espresso powder (optional) and salt. Stir in vanilla extract and allow the mixture to cool slightly while you prepare the rest.
Add egg whites to a medium bowl and whisk until soft peaks forms. Be sure not to over-do it, as stiff whites will be tougher to fold in. Set aside.
Add egg yolks and sweetener to a large bowl and beat with an electric mixer until light and fluffy (about 3-5 minutes). Add in the prepared chocolate mixture in thirds, mixing fully before incorporating the next part. If mixture is too stiff to mix, add in a couple tablespoons water to loosen up the batter. Batter will be thick but should be stirable.
Fold the egg whites gently in four parts, be very gentle as the batter will lose up as you go.
Oven: Pour into prepared pan and bake for 23-26 minutes for fudgiest results. Or until the center is just set and a toothpick inserted in comes out moist (not drenched). This really does vary (a lot!!) from oven to oven (think convection etc), so give it a check from minute 15 the first time around, and remember that you're cake will continue to cook as it cools.
Instant Pot: Pour into prepared pan and cover with foil or silicone lid. Cook on high pressure for 30 minutes.  Allow pressure to release naturally.  Remove from pressure cooker to cool.
Allow to cool completely, and to get extra clean edges place in the freezer for 10 minutes prior to cutting. Dust with cocoa right before serving or top with a fruit or chocolate glaze. Store in an airtight container at room temp for 3-5 days (or in the freezer for a month or two).
Optional: Chocolate glaze – 8oz dark chocolate and ½ cup heavy cream.  Heat on low until chocolate is melted.  Stir until mixed.  Cool and pour over cooled cake.
Pressure Cooker Keto Ricotta Lemon Cheesecake
Prep Time: 10 mins
Cook Time: 40 mins
Total Time: 50 mins
Ingredients
8 oz cream cheese
1/4 cup Truvia
1/3 cup Ricotta cheese
Zest of one lemon
Lemon juice from one lemon
1/2 teaspoon Lemon Extract
2 eggs
FOR TOPPING
2 tablespoons sour cream
1 tsp Truvia
Instructions
Using a stand or electric hand mixer, mix all ingredients except the eggs until you get a smooth mixture with no lumps.
Taste to ensure the sweetness is to your liking.
Add the two eggs, reduce the speed and gently blend until the eggs are incorporated. Over-beating at this stage will result in a cracked crust.
Pour into a 6 inch greased spring-form pan and cover with foil or a silicone lid.
In the inner liner of your Instant Pot, place two cups of water, and a trivet. Place the foil-covered pot on the trivet.
Cook on High Pressure for 30 minutes, and allow it to release pressure naturally.
Mix the sour cream and Truvia and spread on the warm cake.
Refrigerate the cheesecake for 6-8 hours. 
Nutrition facts per serving (6 Servings)
181kcal | Fat: 16g | Saturated fat: 9g | Cholesterol: 105mg | Sodium: 156mg | Potassium: 86mg | Carbohydrates: 2g | Sugar: 1g | Protein: 5g | Vitamin A: 13.5% | Calcium: 7.8% | Iron: 2.5%