Dear Independence Farmers Market Vendors,
We will open on Courthouse Street on May 5th.  The earlier start allows us to take advantage of Mother's Day weekend.  
Market fees will be the same as in 2022: $80 for the season with 8 hours volunteer time OR a flat $120 fee, or $15 per day. There is some overflow capacity on the Courthouse lawn for special events and I can handle around 30 on the street and parking lot. For new vendors who are waiting to hear back from us, thank you for your patience! Just a reminder, we are a producer market.  In a nutshell, this means you need to grow or make what you sell.  Full information can be found in the rules below. Please plan to attend the pre-season vendor meeting April 14 from 11am to 2 pm at the Baldwin Auditorium of the 1908 Courthouse. (upstairs).  It's a potluck. Attendance is expected. 
Here are the IFM rules . Please read them and retain a copy for yourself.
Each vendor then needs to fill out the Vendor Application Form and return it to the market manager before selling at the market.
Here is a helpful VDACS labelling and regulation chart.
If you are a Producer/Processor type vendor, please read over the update to the Virginia Home-Canned Food Exemptions.
Safe sampling information is here
You can also call or email to the contact information above for copies to be mailed to you. We will have copies available at the market as well. If you plan to use a scale at the Market, it needs to be ANSI approved and inspected by Donna Harless at Weights and measures.  Her contact information is [email protected],  276-228-4127.
If you are a new craft vendor, please email 3 representative pictures of your work to [email protected].  These will be sent to the jury for approval. Processor, Prepared Food, and Craft Vendor applicants are required to pre-screen their items.
The Online Market fee continues to be a flat 10% of sales. This covers the 3% software fee, plus the cost of credit card usage (3.5%), increased staffing, and logistics (supplies, bins). Here is how to become a part of the online market. At this point, we are not able to sell products containing CBD due to our credit card processors rules.
If you have questions, please contact the Independence Farmers Market Manager at 276-768-0597 and your call will be answered as soon as possible. We are looking forward to this year's Independence Farmers Market and we thank you for your interest!  The IFM is a proud member of VAFMA and the Virginia is for Farmers Market Lovers trail.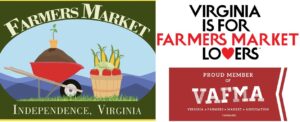 ---
Mailing Address:
Independence Farmers Market
Grayson LandCare
PO Box 373
Independence VA 24348
Phone Numbers:
Michelle, market manager (276)768-0597

Christian, online manager (828) 244-9918
Web: