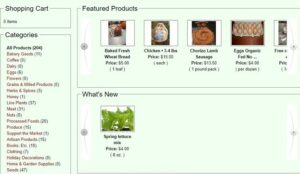 The Online Market is open year round for your shopping convenience.  If you can't make it to Market on Friday, you can always shop Online!  Place your orders Wednesday from 8pm to Monday at 8pm and pick up Wednesdays from 4-6pm in the Grayson LandCare/IFM office at 108 Courthouse Street. Even if you do shop Fridays, some of our vendors ONLY sell Online.
If you miss Maureen's eggs, jams and baked goods, she's still online! Mt. Meadows Farm
Seeds, Southern Exposure
Pork and Lamb, Mt. Memories Farm
Pork and Chicken, My Shepherd Farm
Honey, Morningside Farm
Chicken and duck eggs, Brigadoon Farm
Pizza Crust, Windyhill Farm
Baked goods, Lil Majestic Farm
Here's the link if you want to check it out. http://independencefarmersmarket.locallygrown.net/market
The Online Market started in the winter of 2013.  Back then it was only open when the outdoor Friday Market was closed.  Folks asked us to have an evening Market so we tried a Wednesday Market from 4-7pm in 2015 and 2016.  It seemed like we had a thunderstorm EVERY Wednesday evening!  That's when we decided to keep the Online Market open all year and moved it from Friday mornings to Wednesday evenings so working folks could use it too.  Try it, you'll like it!