I admit to pulling most of this information right out of this web post from Bon Appetit        https://www.bonappetit.com/test-kitchen/how-to/article/how-to-make-a-perfect-salad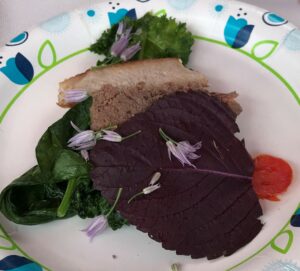 Our vendors have a wide array of tasty greens and lettuces.  They taste SO much better than what you can buy at a store because it is so much fresher.  So make a salad and taste the difference.
Use a mix of greens and lettuces.  Thinly slice raw ( use a veggie peeler or mandoline) carrots, beets, radishes, kolrabi, and/or add roasted or grilled asparagus, broccoli, squash, garlic etc.  Add salt and pepper and toss.
Then pick your dressing-maybe a splash each of balsamic vinegar and a nice olive oil, or replace the vinegar with any citrus juice. If you prefer creamy, try a ranch or buttermilk dressing.
Then add something crunchy-nuts, seeds and croutons, roasting them adds another layer of flavor.
Add some protein-meat, cheese, cooked beans of any kind
Then add some herbs, dried or fresh fruit and enjoy!
When Chef Charles was at the Market opening day, he started with kale and spinach, lightly sauted them and added pork that he had browned in mint jelly thinned with a bit of water and beef, some roasted red peppers and chive blossoms and a shisho leaf for color and another hit of flavor.  I took the picture before he added a drizzle of balsamic vinegar reduction.  His grandmother always told him that people eat first with their eyes, so make it pretty!