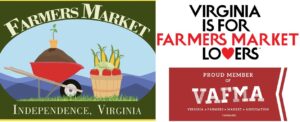 all events are Fridays during the Market from 9am to 1pm unless noted otherwise
April 14-Pre-season Vendor Meeting and potluck, 1908 Courthouse auditorium, 11am-2pm
May 5- Grand Opening, Mother's Day Craft Fair and Fiber Day
May 26-IFM KIDS BUCKS begin. $5 of Kids Bucks to the 1st 25 kids age 12 and under.
June 16- Canning demo. Get ready for the County Fair.  Learn basic jam making and what makes a winning entry.
June 23-Kids Day.  Free and safe activities for kids of all ages.
Tuesday, July 4- Town of Independence Parade and festivities
July 14-Wellness Day. Join area health professionals for free information on staying healthy
July 21- Berry Festival. Berry Dessert Contest and Sorbet fundraiser. Sorbet will be available by the frozen pint as a fund raiser for the Market.
August 4-Tomato Day–Free Tomato tasting, Salsa Contest and the Monster Tomato contest. Last day for IFM KIDS BUCKS
Friday, August 11, noon-8pm, Saturday August 12, 9 am -3pm – Grayson County Fair, Bottomley's Evergreens, Elk Creek. Entries accepted Wednesday Aug 10 3-7pm
August 6-12 National Farmers Market Week. 
August 18- Christmas in August Fiber Day and Craft Fair.  Support local artisans and shop local
September 8-Pepper Day-free pepper tasting
September 22-Apple Festival– Apple Pie contest, IFM Cider fundraiser and Community Cider Pressing
October 6- Squashtober.  Free Squash tasting.
October 13-Last Market Day
November 24- 11am to 2pm, 1st Winter Market and Chili Cook-off
Saturday, December 2-2nd Winter Market, Town Christmas Parade and festivities
For more information, please contact Michelle at 276-768-0597 or [email protected]