In addition to Cooking day, we also had a winter squash tasting.  We cooked them very simply to let the flavor of the squash come out.  The basic recipe is just to slice them in half, scoop out the seeds( save them for roasting!) and place them cut side down in a dish with about 1 inch of water.  Bake at 400 until soft. I also had some cubed and roasted fairy buttercup.  Peel squash with a veggie peeler.  Then slice squash and cube.  Scatter on a baking sheet with olive oil, salt and pepper and roast at 450 until browned, flip and roast the other side too.  For most vegetables-when in doubt-roast!
Without further ado- here are the recipes from October 5th.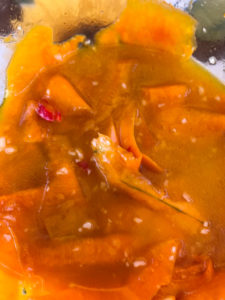 We started with Fairy buttercup ribbons in an orange vinaigrette from October 2018 Bon Appetit
INGREDIENTS
1 small Fresno chile, seeds removed, thinly sliced ( i used a Portugal pepper.  Any not too hot pepper works nicely and I added paprika powder)
2 garlic cloves, finely grated
2 tsp. finely grated orange zest  ( I used the zest and juice of three "cuties")
5 Tbsp. fresh orange juice
2 Tbsp. white wine vinegar  ( I used a white balsamic vinegar)
1 Tbsp. extra-virgin olive oil
2 tsp. kosher salt
1 medium butternut squash (about 2 lb.), peeled
¼ cup unsalted, roasted pumpkin seeds (pepitas)  (I skipped this)
Whisk chile, garlic, orange zest, orange juice, vinegar, oil, and salt in a large bowl to combine. Using a peeler, slice lengthwise strips off long neck of squash to make long ribbons until you have 8 cups (9 oz.). Add to bowl with dressing and toss to coat. Let sit, tossing occasionally, at least 30 minutes and up to 1 hour to tenderize and marinate. Toss in roasted pumpkin seeds, then using tongs, transfer to a serving platter; discard any excess dressing left in bowl.
Roasted cabbage,onions and peppers was the next item.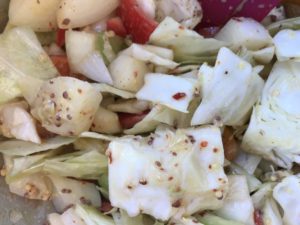 Chop cabbage, onions and peppers to bite sized pieces.  Mix together with whole grain mustard, olive oil pepper, paprika and salt and pepper.  Place in a pan and roast until tender.  Also tasty raw.
Yes, you can make Biscuits and gravy  with a Coleman stove and a grill!
Keeping the bowl, butter, egg and milk COLD is very important.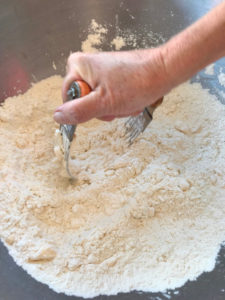 INGREDIENTS for the biscuits
3 cups of flour
21/2 tablespoons (Tbsp) sugar
3 teaspoons (tsp) baking powder
3/4 tsp salt
1  1/2 sticks COLD butter
3/4 cup COLD milk
1 egg beaten
Sift together the dry ingredients in a large bowl. Use a pastry cutter to cut in the butter to peas sized pieces.  Make a well in the center.  Mix together the milk and egg and pour into the bowl.  Mix with a fork until the dough comes together. Flatten and fold into thirds, repeat 5 more times.Pat to 3/4 inches.  Cut and transfer to baking sheet and bake in a preheated oven( or covered grill) until nicely browned, about 15 minutes.
Meanwhile, make the gravy
INGREDIENTS for the gravy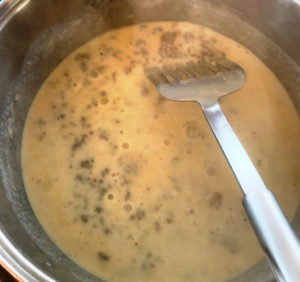 1 pound breakfast sausage
2-3 tablespoons (Tbsp)flour
2-3 cups milk
Pinch white pepper
Cook the sausage slow and low until done, do not brown. Add a couple tablespoons to the fat and sausage in the pan and stir just until the flour is absorbed by the fat.  Add milk to cover.  Bring to a simmer, stirring constantly until sauce thickens. Adding more milk if too thick.  Season with white pepper.
That was a hard act to follow but Mashed potato codfish cakes fit the bill.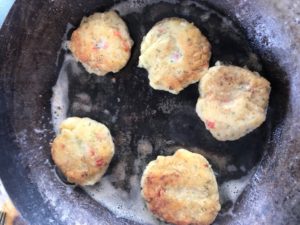 Boil peeled potatoes in salted water until tender.  Mash until fluffy.  Poach the fish fillets in seasoned water until done and flaky
INGREDIENTS
4 potatoes (or 1 per filet)
4 fish fillets
3 tbs minced white onions
3 tbs minced red bell peppers
2 tbsp minced parsley
salt and pepper
flour
Gently mix  everything together except the flour.  Form mix into patties and dredge in flour. Place in a greased saute pan and brown on both sides over medium heat.
Roasted acorn squash with almonds featured a simply baked squash that Jen cut into chunks and finished in saute pan with butter, brown sugar and salt.  And a dash of Malcolm's Madness-found at the West Jefferson Farmers Market.  That gave the squash a nice browned exterior and the roasted almonds added a nice crunchy texture.
The last item was an absolutely beautiful Open faced roasted veggie sandwich with sauted shitake and golden oyster mushrooms, onions, red bell peppers, sauted cooked squash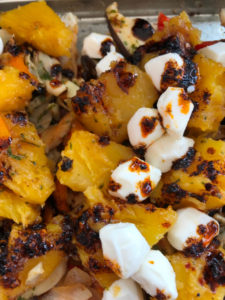 topped with mozzarella balls and roasted in the covered grill until the cheese melted.  The bread was Janie's Asiago baquette and the mushrooms were from Baywood Forest as well.