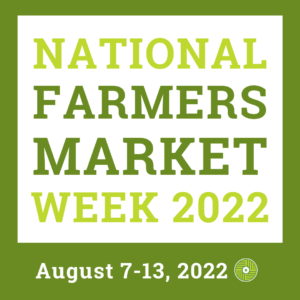 Hello Independence Farmers Market Friends. It's almost National Farmers Market Week!  Think of your favorite Independence Farmers Market story and either write it on piece of paper or send me an email.  Pictures are great too.  Everyone who submits an entry by noon on the 12th will be entered to win a bag of Market goodies.  Tell us why IFM is important to YOU!
We are so excited to celebrate National Farmers Market Week August 7th-13th with you! Over the past year, our farmers market community has showcased resilience in our rapidly changing world. Farmers markets have always been a hub for innovation and connection, and that feels more important every year. But our farmers market doesn't just happen. Every week our farmers market staff, volunteers, vendors and amazing customers come out to make sure that our farmers market continues to serve as a hub for local food and connection in our community. More than ever before, National Farmers Market Week is an opportunity to showcase the value of farmers markets!
So tell us what you love about the Independence Farmers Market and share a story or picture.
See you at the market and bring a friend!