Opening Day is almost here!  We hope to see you THIS Friday, May 6th.   We have a record 37 vendors planning to join us!
We will be set up on Courthouse Street, in the Gate Center parking lot AND on the 1908 Courthouse lawn.  Please stop by the managers tent-the 1st tent on Courthouse Street on the Main Street end-for a map. Since we will be so spread out and have so many new vendors, we have devised a contest.  Put your name and phone # on your map and have ALL the vendors initial your map and drop it off at the managers tent by 12:30 and you'll be entered to win 2 limited edition coffee mugs from the timber build, a tea towel, and a bouquet of flowers.
Here's the map.  The vendors names will also be printed on the back so you don't need a magnifying glass!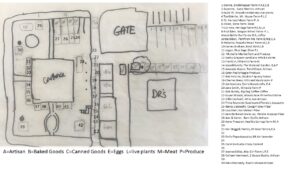 Most, but not all, of our artisan vendors are located on the Courthouse lawn, start the season off by shopping locally for Mother's Day.
There's plenty of parking around the 1908 Courthouse and in the new Courthouse parking lot on Davis street  See you Friday and bring a friend!