Join Sandy Stoneman at the Market this Friday and learn to make fruit leathers-aka fruit roll-ups. This homemade version has WAY less sugar.
Chef Charles has an injury and can't join us, but here are the recipes from his last visit.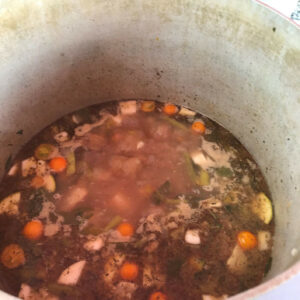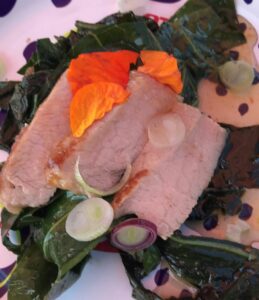 Charles started with a bone broth soup.  He started by sauteing onions, carrots and chard stems to build the 1st layer of flavor.  Beef bones from Eona farms went into the pot and were covered by 1 1/2 inches of water.  That was simmered for about 2 hours.  Next, Chef added chopped potatoes, tomatoes, collard and chard greens, beans, zucchini and patty pan squash. Salt, pepper and honey were added to taste as well as a balsamic reduction.  The reduction is made by cooking balsamic vinegar over low heat until it thickens.
While the soup was cooking, Charles made a fresh salad with tomatoes, cucumbers, onions and a touch of shisho for color and flavor.  Shisho is a Japanese herb that is used in sushi, adds color to pickled ginger and has a flavor somewhere between cumin and basil. He made a simple vinaigrette of 1 part apple cider vinegar to 3 parts extra virgin olive oil  with salt, pepper and thyme to taste.
The last dish of the day was one of Chef Charles' warm salads.  He sauteed pork chops,removed them from the pan, made a sauce from apple jelly and a touch of balsamic vinegar and the pan drippings from the pork, then returned the pork to heat it..  In another pan he sauteed collard greens, swiss chard and onions with bacon and chicken liver.  He placed the chops on the greens and topped with the apple sauce, sliced onion and nasturtium flowers for color and a spicy flavor.