Would you like to be a judge? 
As we add more exhibit categories to the next Grayson County Fair, we also need to add more judges! Judging categories vary from food preservation, dried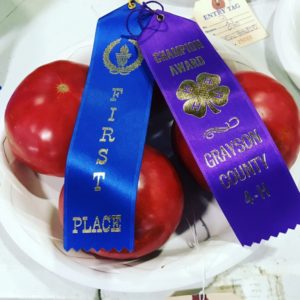 foods and vinegars, and baked goods to photography, Legos and models, quilts, sewing and more. 2 judging schools will be held soon.  I'll be going to the first school in Blacksburg in November if you want to carpool.  The fee is $25 and it starts at 8:30 am on  Saturday, November 10, 2018 at Virginia Tech, Litton-Reaves Hall 175 West Campus Drive Blacksburg, VA 24061.  The registration form for November is here.The second is the Virginia 2019 Winter Judging School on Saturday, January 5, 2019 at The OMNI Homestead Resort, The Dominion Room Hot Springs, VA.  The form for this school is Winter 2019_Registration Form
The schools are hosted by Virginia Cooperative extension and the Caroline County Agricultural Fair Association. The purpose of the judging school is to train and certify judges for county fairs, the State Fair of Virginia, and other related competitions throughout the Commonwealth.  All instructors are certified and have taught at fair judging schools throughout Virginia, Maryland and other neighboring states.
Participants should have some knowledge of the subject area (s) they plan to register for and are encouraged to bring samples to be discussed in the class. You can also pick up forms at the Grayson County extension office or at the Grasyon Landcare/IFM office Wednesdays from 10 am to 6 pm.
Please send completed forms by mail to: MACINE WILLIAMS, JUDGING SCHOOL P.O. BOX 1207 RUTHER GLEN, VA 22546  or Email: [email protected] Phone: (804) 349-2696
If you want to carpool, email Michelle at [email protected]
_________________________________________________________________________________________